Polaire Grip 80 Snow chain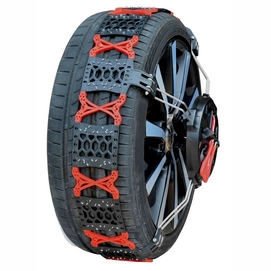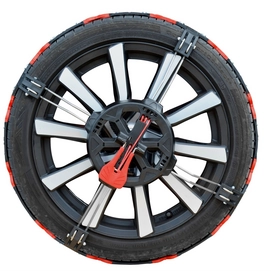 Polaire Grip 80 Snow chain
Add to wishlist
isApplePayment = value" @toggle-spinner="() => spinning = !spinning" @update-shipping="updateShipping()" :special-price="specialPrice" :normal-price="normalPrice" :product-name="productName" >
Mail me when this product is available again
Our service
Free shipping as of £200.00
Fast delivery
2 year warranty
Item description
The Polaire Grip snow chain is an excellent well treaded chain that comes at an acceptable price. As vehichles are becoming more modern, there is less space in the wheel arch's than previously. This style of chain with a 7 mm tread is becoming more popular as it fits in nearly all wheel arch's. Polar Grip snow chains are suitable for passenger cars (including sports cars), SUVs and commercial vehicles. Installation is simple using the self-tensioning mechanism which only has to be tensioned in the application process. This extremely high performance chain succeeds its more expensive rivals on the market, always leaving customers happy.
Tyre size
175/80-15
195/65-16
195/70-15
205/55-17
215/60-16
215/65-15
215/70-14
225/40-19
225/45-18
225/50-17
235/60-15
255/40-18
255/45-17
255/50-16
255/60-14
275/50-15
185/75-15
235/55-16
255/35-19
285/40-17
295/30-19
255/30-20
295/35-18
225/35-20
265/30-20
205/80-13
285/35-18
335/30-18
355/25-19
305/25-20
305/30-19
205/50-18
205/45-19
315/25-20
The French brand, Polaire has over 25 years experience in producing innovative products for the automotive market. Thanks to continuous innovation and a high degree of expertise, Polaire delivers exceptionally high standard products at a very good price. Polaire is renowned for its affordable snow chains with high user convenience. The snow chains are easy to attach and are also suitable for heavier vehicles. The ideal snow chain for a very good price!
Specifications
EAN

3760035010289

Snow Chain (set of 2)

Brand

Polaire

Model

Grip 80

Inside Clearance

0 mm

1 Step assembly

Simple installation in minutes

Very good grip on snow and ice

For front, rear and all-wheel drive

For passenger cars, SUVs and commercial vehicles

Safe for aluminum rims

Very good value for money

ÖNORM V 5117

5 Year Warranty
Reviews
Mark+Walker
February 8, 2019
Excellent product and service
Positive points
Great customer service on
Fast delivery
Product works very well.
Chains very simple to fit and to remove. Work very well on snow and ice.